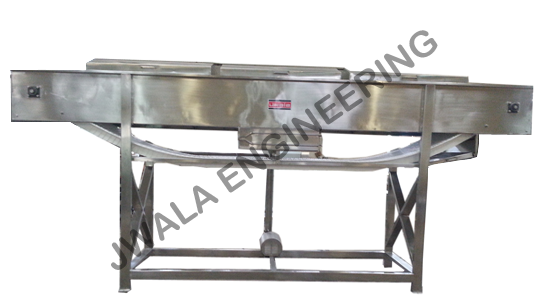 Belt Blancher Machine
Application of Belt Blancher Machine
Belt blancher machine suitable for blanching the vegetables. The vegetables are heated in hot water for specified amount of time to deactivate enzymes thereby ensuring blanching.
---
Process of Belt Blancher Machine
Belt blancher machine is passed through hot water for specified amount of time on a modular belt. Hot water is also sprayed from the top with the help of pipeline and nozzles. After heating the belt then lifts the product out of water and discharges it to the next equipment.
Our team manufacturers, suppliers and exporters of belt blancher machine in Mumbai India to all over the world.
---
Belt Blancher Machine Features
Body frame made of SS square tubes.
Body of the unit will be made of SS sheets
Modular plastic belt with cleats
Support structure for modular belt
Steam pipeline to heat the water in the blanching tank
SS pipeline with nozzles to spray hot water on the product being carried in modular belt
Steam control valve and other steam fittings
Pump for circulating hot water from tank to SS pipeline for spraying
SS covers on the top of the belt blancher equipment