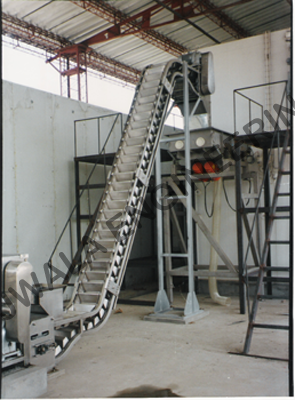 Application of Bucket Elevator
To receive the product and lift it from ground level and deliver it to the next machine height desired. Generally used as part of continuous processing plants.
---
Process of Bucket Elevator
The product is fed into the feed hopper of the elevator. It passes on to SS buckets. Since the buckets are overlapping the spillage of product is avoided. The buckets fitted with rollers at the end move along the path of the machine and are delivered to the next machine.
---
Bucket Elevator Features
SS overlapping buckets avoid spillage of the product.
Perforated / non-perforated stainless steel buckets.
The body of the elevator, tie rods, feed and discharge hopper etc are made out of S.S 304
The discharge height can range from 1500mm to 5000mm..
Modular form for easy assembly at site.
Sturdy construction and streamlined appearance.