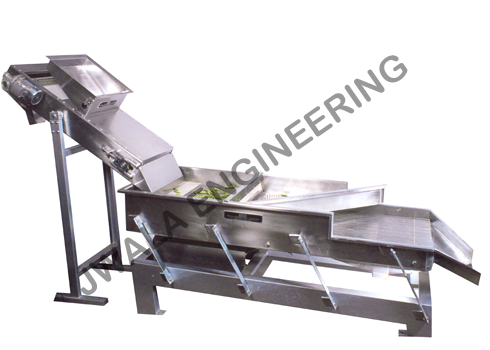 Winnower Machine
Application of Winnower Machine
Used in green peas processing plant for performing the following functions:
Separation of whole pods from the pea grains
Separation of small size of pea grains (<5 mm) not suitable for further processing
Separation of small peels from the pea grains (largely)
---
Process of Winnower Machine
The pea grains along with pods and peels are fed on the vibratory conveyor. The whole pods are separated in the top sieve and less than 5 mm grains are separated from the bottom sieve during the travel of the product on the conveyor. A small belt conveyor is provided to separate the small peels from the grains.
---
Winnower Machine Features
Body frame made of SS pipes
Body made of SS sheets. There are two screens fitted on the body. The top screen separates the pods from the grains. The middle screen separates the proper size of the grains from the small size ones to be discarded.
Vibratory motors mounted on flanges mounted on a pipe fitted on the body
Springs to ensure that vibration is not transmitted to the body frame
Winnower machine similar to apron conveyor mounted after the vibrating unit
---