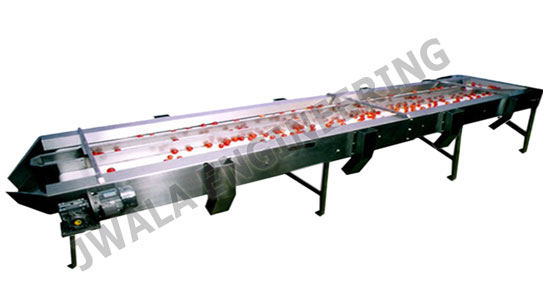 Application of Inspection Conveyor
Suitable for inspection of the product and transferring it one point to another. Generally used as part of continuous processing food plant.
---
Process of Inspection Conveyor
The product is fed on the belt of the conveyor where it is divided into different lanes for inspection. The conveyor can be multi tiered depending upon the application. The selected product is fed into one of the lanes of the conveyor or on to a separate tier of the conveyor. The waste is dumped in chutes provided on the sides of the conveyor where they can slide into a bottom tier of the conveyor or can be collected in chutes.
---
Inspection Conveyor Features
Body made of SS pipes and SS sheets. Slots are given in the body for easy cleaning of the conveyor. SS legs are provided in the system.
PVC/PU food grade belt.
PP support sheet on which the belt runs along the length of the conveyor. The support sheet is mounted on a framework made of SS angles.
Return rollers made of SS for easy movement of belt on return side.
SS drive and driven rollers.
Modular design for easy assembly and disassembly.
Drive arrangement consisting of geared motors, bearings, tensioning arrangement etc.