Vegetable Blancher

Machine
---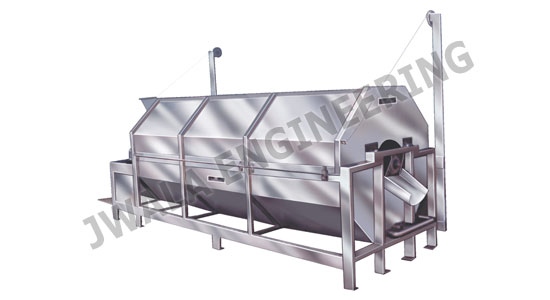 Application of Vegetable Blancher Machine
Suitable for blanching the vegetables. The vegetables are heated in hot water for specified amount of time to deactivate enzymes thereby ensuring blanching.
---
Process of Vegetable Blancher Machine
The product is fed into the feed hopper of the unit. It enters into the perforated drum directly. The tank is filled with water, which is heated by steam. The boiling water enters the perforated drum and the product is immersed in it. The product moves forward in a positive manner due to the screw arrangement created inside the drum. The blanching time is controlled precisely by the VFD. After blanching the product is removed from the drum by the scooping arrangement and discharged outside the machine using the discharge hopper.
---
Vegetable Blancher Machine Features
The body frame is made of SS 304 rectangular pipes
Main tank of octagonal shape made of SS 304 sheets
Perforated drum with screw flights made of SS 304
Steam pipeline and steam fittings including automatic steam control valve
Feed and discharge hopper with covers wherever necessary
Scooping arrangement to discharge the product from the drum to the discharge hopper
Suitable drive system including geared motor, sprockets, chain etc
Lifting arrangement to lift the top cover of the body