Plastic

Modular Belt Conveyor
---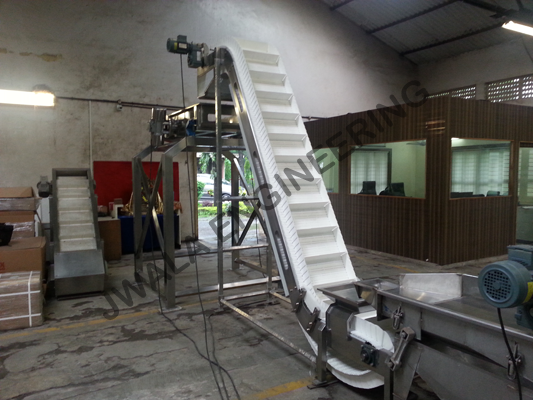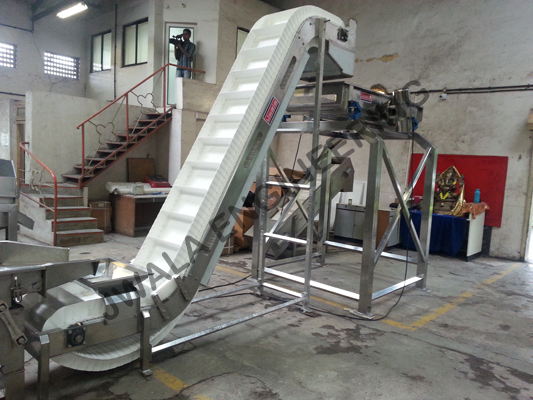 Application of Plastic Modular Belt Conveyor
To receive the product and lift it from ground level and deliver it to the next machine height desired. Generally used as part of continuous processing plants.
---
Process of Plastic Modular Belt Conveyor:
The product is fed into the feed hopper of the elevator. It passes on to plastic modular belt. The belt moves along the carryway and discharges the product to the next machine at desired height.
---
Plastic Modular Belt Conveyor Features
Plastic modular belt from internationally reputed supplier
Body frame made of SS 304 square pipes and sheets. The sheets are laser cut for precise shape and to provide correct direction of the belt. The square pipes are welded to the sheets providing a tubular structure to the machine for easy cleaning
The body is modular in structure the bottom section, top section and central section/s
Carryway for plastic modular conveyor belt made of UHMWPE supports mounted on precisely cut SS strips. The UHMWPE supports fit directly on to the cut strips. The carryway consists of UHMWPE strips, rollers, shoes etc. to guide the belt along the desired path
Return side made of UHMWPE strips at adequate places
Geared motor, square shaft, sprockets, bearings and suitable drive arrangement