Fruit Pasteurizer

Machine
---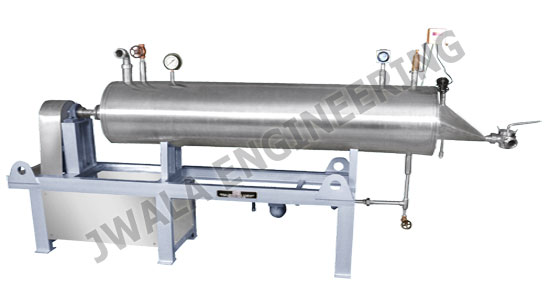 Application of Pasteurizer Machine
Suitable for pasteurizing the fruit/vegetable pulp and other viscous products by heating it at appropriate temperature for suitable time.
---
Process of Pasteurizer Machine
The pulp is fed into the SS tube of pasteurizer from one end. The SS tube is heated with steam on the outside. There is a rotor in the SS tube with Teflon scrapers mounted on it. The scrapers ensure that the pulp does not stick to the surface of the tube to prevent charring and push the pulp forward to discharge it at the other end in the set time.
---
Pasteurizer Machine Features
Structure made of SS square pipes.
SS tube in which the pulp is passed.
SS rotor with Teflon scrapers mounted on it.
MS tube enclosing the SS tube.
Insulation using glasswool.
SS sheet to cover the insulation.
Steam control valve.
Pressure gauge and other accessories.
S.S. 304 discharge hopper.
Appropriate drive system consisting of motor, pulleys, V belts, bearings etc.
---