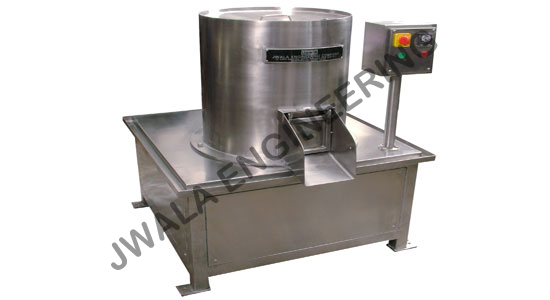 Application of Peeler Batch Type
The equipment is suitable for peeling of root vegetables in batches.
---
Process of Peeler Batch Type
The vegetables are fed in the drum of the machine. The peeling takes place due to contact of the vegetables with the abrasive material applied on the wall of the drum. The vegetables rotate in the drum due to the rotating disc placed at the bottom of the drum. Water is sprayed in the drum during peeling operation. With the help of timer the peeling time can be set. After the set time the peeling stops and the vegetables are discharged from the hopper.
---
Peeler Batch Type Features
Body made of SS square pipes
Drum made of SS with abrasive material applied on its inner surface
Rotating disc at the bottom of the drum
Opening for removal of the product after peeling
Water spray arrangement from the top
Suitable drive mechanism to rotate the disc
Feed hopper & discharge hopper made in SS
Top lid, water and waste discharge pipe etc.
Control Panel with timer for operation of the machine
---